Site undergoing maintenance, 18th January.
FREE REPORT
GLOBAL BENCHMARKS
PROFILES OF 20 TOP PERFORMING COMPANIES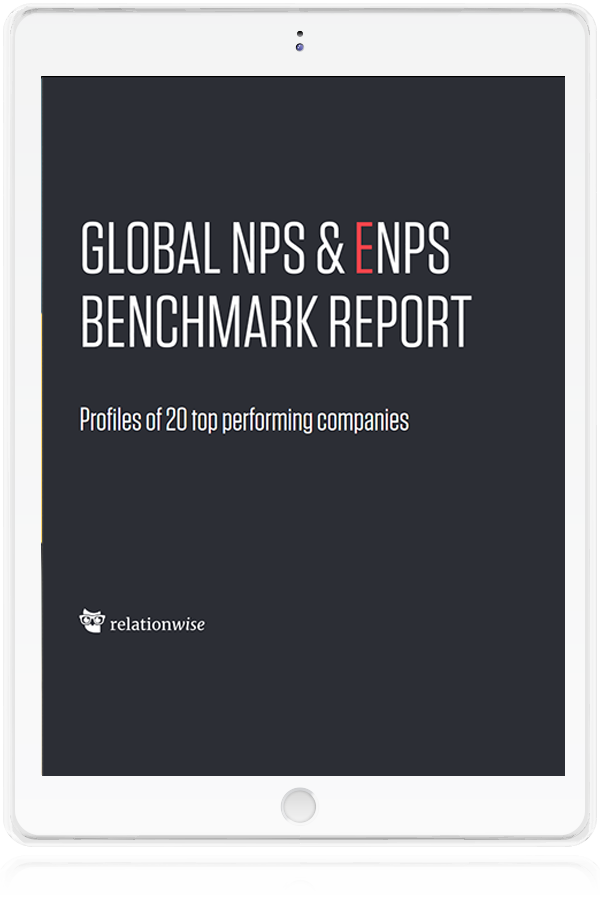 The report includes:
NPS and eNPS inspiration from top performing companies
Case stories from, among others, Netflix, Airbnb, Samsung and Tesla
NPS and eNPS scores from global companies. Benchmark your performance with the best.
Get the report for free here
A few words from our customers
DAC didn't use Net Promoter Score® before I started and we have now been using it for about 18 months. NPS® has the advantage of helping us move and react to feedback very quickly and get instant results
Nanna Sverrild, Communication Advisor
Danish Architecture Centre

NPS® is a great tool to use. In my opinion our company really needed to move focus away from what we do as a laboratory to what we can do for our customers by listening to them.
Kenn Jørgensen, Area Sales Manager
Eurofins

We shouldn't try to differentiate ourselves on price but on our customer experience and the high quality of our products.
Allan Jensen, Vice President, Sales
AMBU

It has been quite simple for us to implement NPS®. We get immediate feedback on how we are behaving towards our customers and all of our employees have been very positive towards it.
Jacob Christiansen, Business Developer
HEDEDANMARK

When using a feedback system like NPS it gives our customers the opportunity to say: "I think the service was great, but next time I would like to see some more variety", and then we can improve.
James, Owner
Cad & the Dandy
How loyal are your customers?

With the use of the Relationwise dashboard, you'll learn how likely it is that your customers are recommending your company. It's one simple platform that provides ongoing feedback from your customers.

Determine where your most loyal or unsatisfied costumers are located (which countries, stores, departments, etc.)

Get an overview of your customer NPS development
What is Net Promoter Score®?
Net Promoter Score® is also known as the "ultimate question" to ask your customers and colleagues: How likely are you to recommend us and why? Customers will rate you from 0-10, where 10 is the best.


A KPI that can look into the future

NPS® does something which no other model does better. Imagine a KPI (Key Performance Indicator) that could show you how the future will look. You already have plenty of KPIs that show you the current, or previous, state of things. Not many companies have access to a KPI that shows them future customer or colleague behaviour. This is the amazing essence of NPS®.

"Promoters"
(9,10)
These are very satisfied and loyal customers or colleagues who you can count on for life. They are even prepared to recommend you to other people.

"Passive Satisfied"
(7,8)
Passive satisfied customers and colleagues are not unhappy, but see you as one among many others. These customers and colleagues can be tempted away by other companies should they get a better offer.

"Detractors"
(0-6)
The expectations of the customer and colleague have not been met and they are on their way out. They may even be so dissatisfied that they spread negative word of mouth about you.
The big question now is how your customers and colleagues are divided between these three groups, and even more importantly, how you can move them up towards promoter level – and what this could mean to your business.
Get inspiration from our material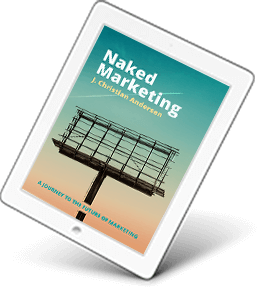 Enjoy 129 pages of travelogues and essays. Get to know the importance of new marketing and learn how you can create growth by changing your marketing strategy.
Buy the book on Amazon or get it free of charge to your inbox by signing up for our newsletter.
Read more here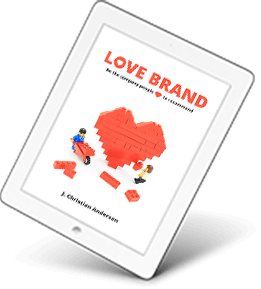 Enjoy 120 pages about how you get more customer ambassadors and positively change your management. Get inspiration from other companies and much more.


Buy the book on Amazon or get it free of charge to your inbox by signing up for our newsletter.
Read more here
How do I get my NPS®?
The annual survey is dead! Rather than asking your customer and colleagues to answer a big survey once a year, it has been shown to be much more effective to ask a single question regularly - and be updated regularly.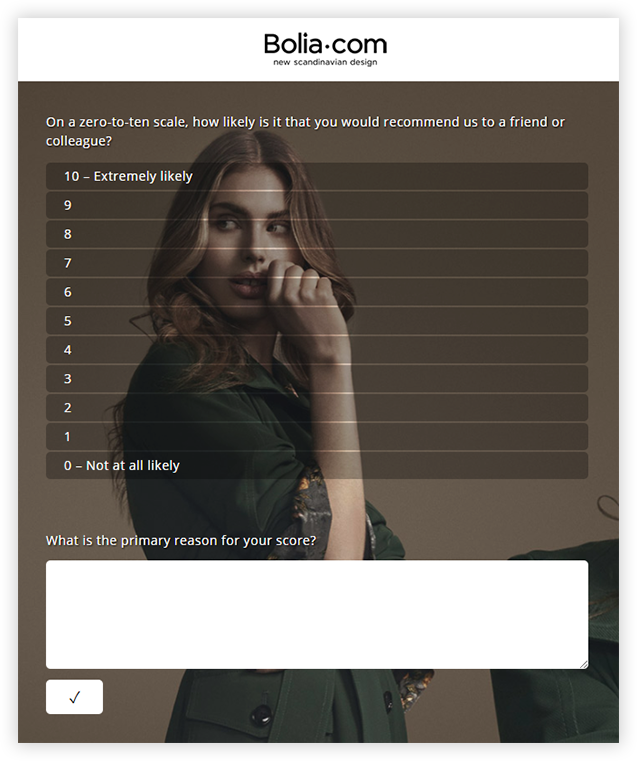 Customer feedback on autopilot

Ask your customers and colleagues regularly.
The customer and colleagues replies
They get an email with the question: How likely are you to recommend our business and why?
You get the results

With our dashboard you can easily keep up with customer and colleague feedback and make better decisions.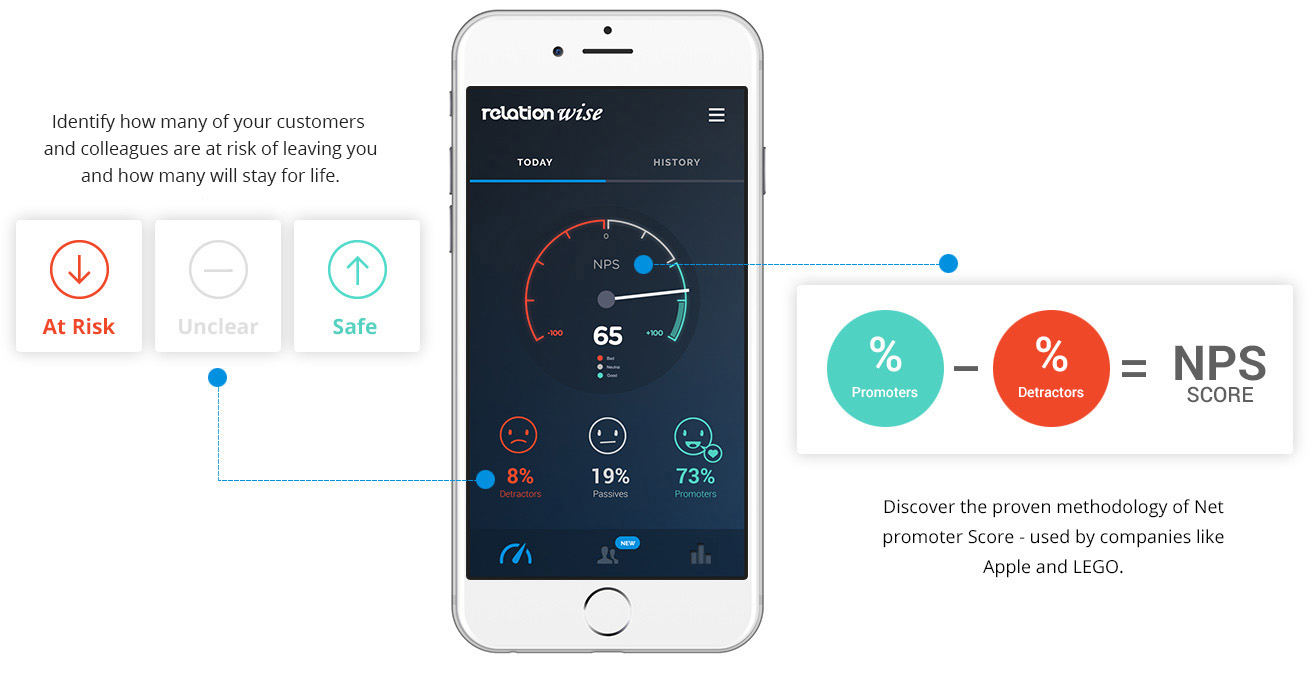 Show History
Track your progress from day to day or month to month. Get your results documented by showing before and after data.
Swipe through time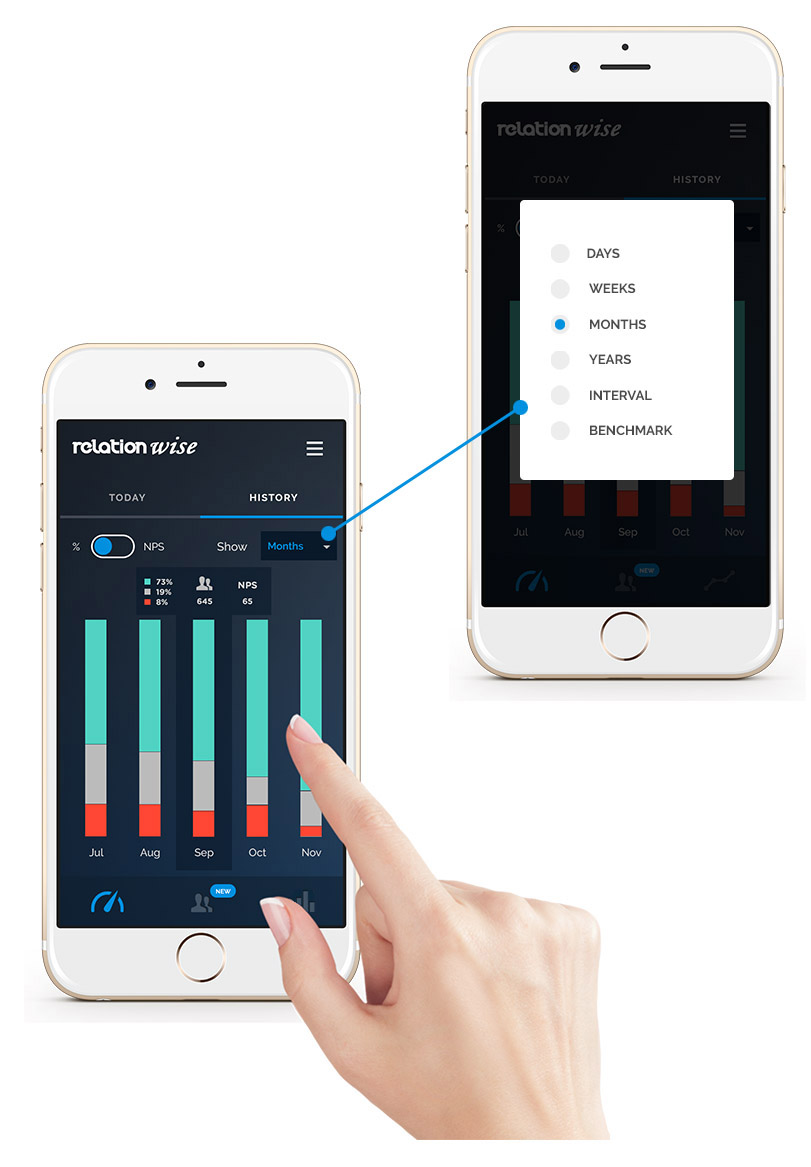 TV Dashboard
You can now opt to have the dashboard displayed on a TV screen at your company so that all employees can see how many happy and unhappy customers you have. The dashboard can, for example, be displayed in the canteen or the reception area. This way you make sure that the numbers motivate everyone in the organisation to do their best.
Actionable customer feedback that makes a HUGE difference
The alert function sends you notifications when customers respond negatively. When you receive alerts immediately you can react much faster than other companies to customer unhappiness. Detracting customers can be converted into loyal promoting ambassadors before they begin spreading negative word of mouth about your company. You can also get alerts sent straight to your email.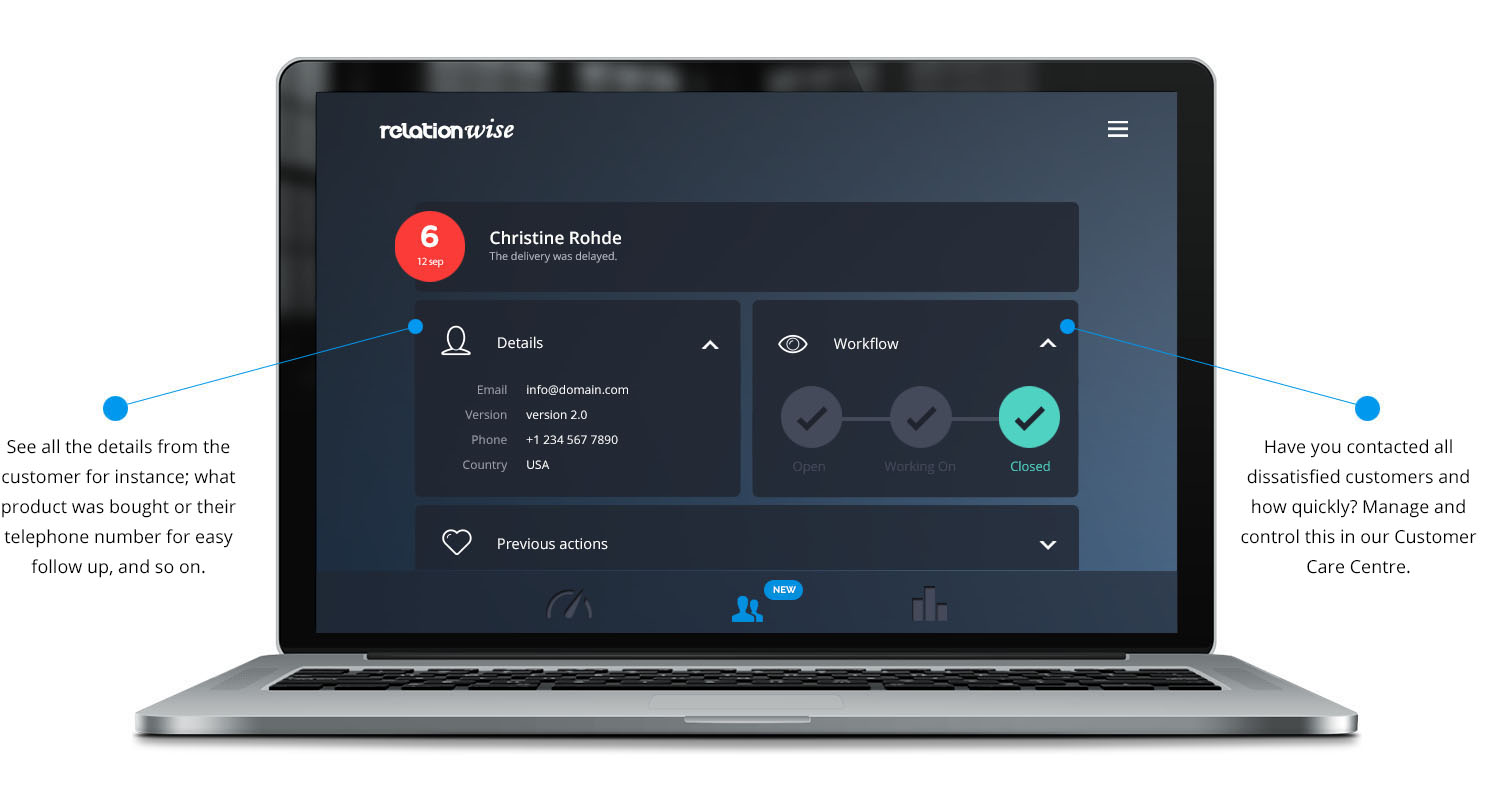 Get an auto-generated monthly report sent directly to your email where you get a full overview of unhappy customer incidents and how many and how promptly they were subsequently resolved.
Benchmark your organisation
In our benchmark module you can compare how loyal your customers are with specific members of your team, department, shop, product - or whichever kinds of comparisons make sense for your organisation.